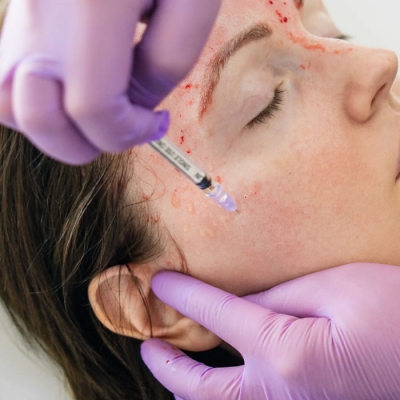 Vampire Facial Therapy in Delhi is a relatively recent wrinkle and ageing face skin therapy. Vampire Facelift, also known as Selphyl, is a non-surgical technique that employs PRP (a material derived from the individual being treated's blood) to renew the skin. PRP is platelet-rich plasma, which is present in the blood. It is generally known as "vampire therapy" since it uses blood to heal patients. Because it is a non-surgical treatment, there is no downtime.
Primary Benefits of Vampire Face Therapy
Skin tone, skin radiance, and, literally, a facelift are the primary benefits of vampire facelift therapy. You will have wrinkles and sagging skin removed, as well as a gorgeous skin shine. All of the advantages you see are due to the power of your own blood!
How Does The Procedure Work At Panacea Global Hair & Skin Services?
This is the most recent advancement in the realm of skincare with the best Vampire Facelift Treatment Cost India. As a result, the technique requires knowledge and experience to accomplish. Our professionals at Panacea Global Hair & possess both of these characteristics. They understand the technique and operation of vampire facial treatment.
For this approach, professionals get the material PRP from the blood of a patient undergoing therapy. This chemical is used to cure wrinkles and other undesirable skin problems.
Your Expectations From The Vampire Facial Therapy in Delhi
Panacea Global Hair & Skin Services understands medical science advancements. Our specialists are up to speed on the most recent advances, and we organize all of the required technical aids to deliver the benefits to those who desire them. We take all steps and procedures to reduce the possibility of negative effects from the therapy. For a successful Vampire Facelift session, you may schedule a short appointment with Panacea Global Hair & Skin Services.