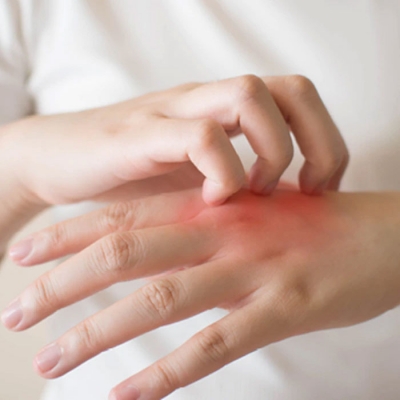 Fungal infections" are skin diseases caused by various types of fungus. Depending on the fungus involved, fungal infections are categorized into numerous classes. Intertrigo, thrush, and pityriasis Versicolor are all yeast infections.
If you are suffering from any type of fungal infection, then don't worry we have covered your back. All these conditions are well treated here at the best Fungal Infections Treatment Doctors in Delhi.
What Causes Fungal Infections?
Our doctors at Panacea Global Hair & Skin Services state that different species of fungus produce different sorts of fungal diseases. Although there is one thing they all have in common. Fungi invade and flourish in keratin that has died.
The protein keratin is found in your skin, hair, and nails. Fungal infections are possible after fungi penetrate this important component.
Who all are at risk of having fungal infections?
Fungal Infections are not a common skin-related disease and require immediate medical treatment for eliminating their effect and avoiding further diseases. That's why you should know whether you are at risk of fungal infection or not. So, have your eyes on the below pointers stated by the best Fungal Infections Treatment Doctors in Delhi:
Individuals who do not take care of their hygiene: We should put our best efforts to keep ourselves neat and clean. Bacterias took place more in unhygienic places. That's why you should keep your surroundings clean too.
People who do not have a habit of changing their shocks daily.
Individuals who use too tight or too loose shoes or other clothes.
Sharing towels, clothes, and other personal things can also lead to fungal infections.
Not paying much attention to skin redness, itching, and other types of discomfort. This can also lead to fungal infection at later stages.
If you are the one following any of the above habits, we will highly advise you to keep a close eye on them to avoid any type of skin infection.
Signs of having Fungal Infections
Our patients should be aware of the signs that can cause fungal infections. That's why for your better understanding we are mentioning the same as below :
Skin Rashes: One of the most common symptoms of fungal infection is having itching-like sensations or noticing redness on the skin. This redness and rashes can increase with time, so better to consult the experts.
Skin deterioration: Your skin will start losing its shine and brightness if you are suffering from fungal infections. That's why it's better to consult the best expert dermatologists.
Patches and Bumps: Many times we have noticed that patients can even notice patches like rings on their skin which can also be a sign of having an infectious disease.
How to Avoid Fungal Infections?
Cleanliness can help avoid fungal infections.
After a bath, ensure your skin is fully dry.
Wash your socks, clothes, and bed on a regular basis.
Towels and clothes should not be shared.
To allow your shoes to dry, have an extra pair on hand.
Being the best Fungal Infection Specialist Clinic India, we make every effort to deliver treatment with the highest level of personalization possible. You can book your appointment with us if you are looking for the best Skin Allergy Specialist in India.
Types of Treatment Done for Fungal Infection
As mentioned earlier, the infection took place due to several bacteria and types of fungus involved. That's why every patient can react in a different way after catching the infection. Keeping this in mind, our team of medical professors is always ready to analyze your health conditions and then proceed with the best suitable treatment. This is why the treatment is not the same for every individual.
Most fungal infections did not require much medical treatment and can be cured by the simple process of medication. For the ease and convenience of our patients, our Fungal Infections Treatment Doctors in Delhi prescribe some medicated creams or gels that can be applied to the skin without any discomfort. With our years of expertise, we can assure you that there are no side effects associated with the treatment provided by us.
That's why feel free to contact our team to receive the best treatment without any second thought!
Receive the best treatments for fungal Infection at Panacea Global Hair & Skin Services
We highly understand that our patients want to receive the best and most effective medical treatment for fast recovery. That's why we put our best efforts into giving medical services to our clients.
Our team of Fungal Infection Specialist Clinic India assures you that you don't have to make a second thought while rendering our services as our team takes care of every parameter on your behalf.
You don't have to roam down the streets to get your treatment done. You can reach out to the team of the best dermatologists at our clinic in Delhi. All you have to do is to contact us through mail, notification, or email. We are just a call away from you!
Why should you choose us?
Before you jump into any final decision, let us make you familiar with some of the compelling reasons to choose our Fungal Infections Treatment Doctors in Delhi :
We provide you with the optimal personalized medical services so you can receive the treatment as per your medical condition.
Our team members are capable of treating different types of infections by giving suitable treatment.
You don't have to empty your pockets while rendering our medical services as we have kept the charges keeping the client's point of view in mind.
Our main aim is to focus on speedy recovery along with effective results of the treatment.
We are there to assist you with the result-oriented treatment at your one call.
Are you still hesitating to contact the leading Fungal Infection Specialist Clinic India? If not then get ready to get rid of your fungal infection within a couple of days!